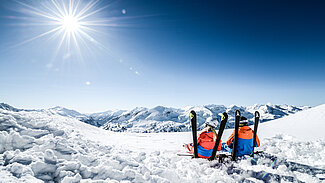 Salzburg's ski region guarantees snow-cover well into the spring.
The Obertauern ski region
"Guaranteed snow" is the byword for the heart of the Tauern. At 1,740 metres above sea level, Obertauern is the highest winter sports destination in Salzburg, and the region is well known for its natural snow guarantee. This has virtually received an officially and scientifically supported seal of approval. A study by well-known ski tourism researcher Günther Aigner showed that Obertauern is the winter sports destination with the deepest snow cover in all of Austria.
As a result of the certified snow guarantee offered in the Obertauern region, the Tauernherz is the perfect holiday destination for winter sports enthusiasts, whether you're a fair-weather skier or a true fanatic. The perfect destination for families, party animals, groups of friends or gaggles of grandmothers. And it's all right outside our doors.
Ski in and ski out onto the four-seater Kehrkopf chairlift
The Schrotteralm practice T-bar lift is right outside the hotel
100 fantastic kilometres of ski and snowboard slopes are all marked on the Obertauern slope map
Obertauern's ski lifts: 26 modern lifts and railways
26 km of cross-country ski trails (access 50 m from the hotel)
"The Spot" snow park right next to the hotel
The "Almrausch" ski restaurant close to the hotel
Ski hire, sports shop and ski school next to the hotel