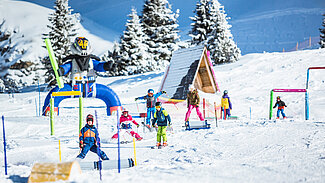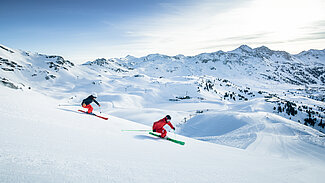 Your ski school right next to the Tauernherz in Obertauern.
Ski school & ski hire
Swinging at the four-star Tauernherz. What does that mean? Quite simply, more momentum for your ski day at the hotel with ski hire in Obertauern. Would you like to start exploring the Obertauern ski region on the boards that mean the world? Or simply improve your style? At the CSA Grillitsch Ski School in Obertauern, right by the hotel, everything is designed to make learning to ski a relaxed and easy process. It's not just about the technical details, but also the joys of carving, boarding and the rest – so you can feel right at home in powder snow or spring firn, on icy, blue, red or black descents or even, for advanced skiers, on the mogul slopes.
The ski school range includes family ski lessons, a children's ski school, individual lessons, ice climbing, freeriding safaris and snowshoe expeditions – find out all the details at the ski school office, which is directly connected to your Hotel Tauernherz!
You can book all your lessons and tours with the professional instructors of the Grillitsch Ski School in Obertauern at the four-star Hotel Tauernherz. Find out more details, including prices, from the Grillitsch Ski School!
At the Sportshop Gloria, right next to the four-star Tauernherz.
Ski hire, outfitters and accessories.
No more enormous quantities of luggage, unwaxed or worn-out skis with blunt edges: Our hotel is directly connected to the Hotel Obertauern's ski hire facility, the Sportshop Gloria, where you can hire your dream equipment.
Would you like new carvers, a trendy snowboard or a really funky outfit? Just call in to the sports shop right next to the hotel and indulge yourself. Trained staff and professional advice guarantee that you will be able to choose the very best equipment to put the finishing touches on your perfect ski holiday!
Would you prefer to use all-new rental equipment during your ski holiday in Obertauern? Simply send your obligation-free holiday enquiry to the four-star Hotel Tauernherz today, and you can explore the range and prices at the Gloria sport shop online.