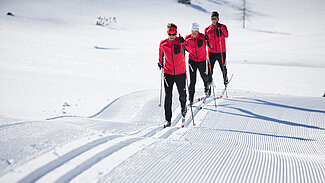 Winter sports in Obertauern
Cross-country & biathlon
There's always something going on in Obertauern. Whether you are cross-country skiing in Obertauern or shooting into the blue in a biathlon, Obertauern offers almost unlimited winter sports for guests of all ages.
A shot of fun with biathlon
Biathlon in Obertauern is an exciting combination of an endurance sport and pinpoint accuracy – and the whole family can join in. And while it sounds almost impossible, it's actually not hard at all. The best thing is to try it for yourself.
Another exciting alternative to skiing in Obertauern is the new concept of airboarding, which feels like speeding down the slope on an air mattress.